Say Goodbye to Aching Shoulder Pain that Limits Mobility!
Shoulder injury is a common ailment and can take forever to heal or will get worse if not handled in time or not healed properly.
Our Shoulder support brace provides gentle but firm compression to stimulate proper blood circulation and prevent painful movements so you can recover safer and faster. It relieves pain, swelling, and inflammation due to sprains and strains, shoulder dislocation, rotator cuff injuries, frozen shoulder, and arthritis.
With our Shoulder Brace, you alleviate shoulder muscle pain without expensive therapy!
✅ Support and protect your shoulder.
✅ Get your shoulder back to its optimal functionality.
✅ Help your brain better understand the position of your shoulder.
✅ Make your shoulder pain better.
Benefits:
FASTER RECOVERY – Our compression therapy shoulder strap prevents unsafe, excessive, and sudden arm movements that can lead to further injury in sports and every day activities, thereby it allows shoulder muscles time to relax and respond while preventing dislocation, so the healing process is not interrupted, and you recover faster.
RELIEVES PAIN – Our orthopedic shoulder brace is designed to provide support and stability in order to alleviate pain and discomfort of the shoulder. It helps soothe numerous shoulder pains such as dislocated shoulder, rotator cuff injuries, joint injuries, sprain, soreness, tendinitis, arthritis, & rheumatic pain. So, you can perform daily activities both large and small, while preventing injury or inflammation that leads to discomfort and pain.
COMFORTABLE AND EASY TO WEAR – Our shoulder support brace is made with latex-free, high quality, breathable neoprene and offers a firm and secure fit while still being light-weight and elastic. It can be worn all day for maximum support and over or discretely under clothing.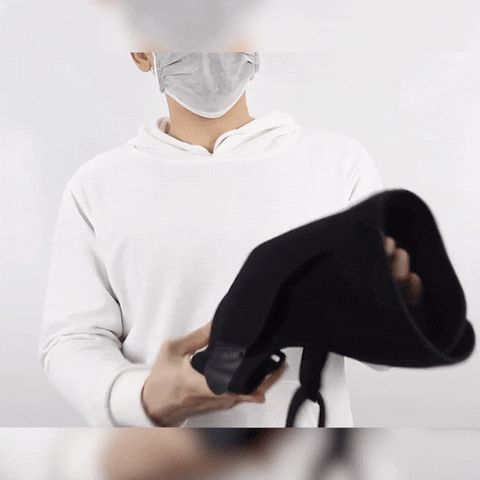 UNIVERSAL SIZE – This flexible yet stable brace can be worn on the left or right shoulder and is great for adult women and men from s to xl, with dual adjustment for size and compression via chest straps and shoulder compression pad. Simply adjust the chest strap for maximum protection or loosened for less support, and to achieve a snug yet soothing fit. It is made from high quality, breathable, neoprene fabric with just the right amount of stretch to make it secure and comfortable for you.
RECOMMENDED BY PROFESSIONALS – The Shoulder brace is recommended by professional physiotherapists around the globe, because it is effective against severe shoulder conditions such as osteoarthritis, rheumatoid arthritis, bursitis, tendonitis, instability, adhesive capsulitis, and more!
For some injuries, it's vital to use a brace so your injury doesn't worsen or heal improperly. So, whether you are male or female, athlete or not, having a shoulder brace provide the support and stability your shoulder needs.
BUY WITH CONFIDENCE – We offer a 30-day money-back guarantee. That's how confident we are in all of our products. If you have issues with the product, please contact us at [email protected] and we will get back to you within one business day.
Get your brace today to alleviate shoulder pain and muscle soreness risk free.
This product ships from USA.
Sale ends soon!